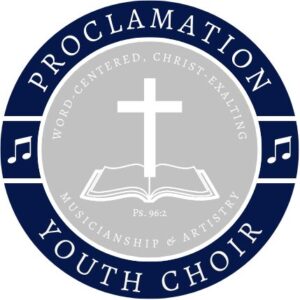 Proclamation Youth Choir is an outreach ministry of Crosspoint Fellowship in Diamond, MO. and is comprised of youths from all across the 4-State area. The choir began in 2017, mainly in response to the state of congregational singing in America. We've observed that congregational singing in many American churches is in desperate need of revival. Many people come to church simply as spectators and never become the active participants in worship that God desires for them to be. Proclamation Youth Choir derived its name from Psalm 96:2, which states, "Sing to the LORD, praise His name; proclaim His salvation day after day." We desire to ignite the next generation with a love for singing and proclaiming the salvation of our God. And we realize this must first begin in the heart and mind. We believe when an individual begins to better understand who God is, who we are as sinners, and what God has done for us through the work of His Son, then the heart will naturally overflow with singing and praise. This is why we do our best to pick theologically rich songs and teach theology along the way. We pray that many might be drawn unto Christ through the work of this choir and that in return, families and churches would be strengthened.

Registration for the Spring 2023 Season, Singing Through the Psalms

is now open!
Registration deadline is Tuesday, January 10th.
Weekly rehearsals will begin Tuesday, January 24th from 6-7:30PM at Calvary in Neosho.
The Proclamation Youth Choir presented Singing Through the Scriptures on May 7, 2022.
The YouTube video link of the Night of Worship can be found below.