The Proclamation Youth Choir is an outreach ministry of Crosspoint Fellowship. The choir is open to all area youth, ages K-12th Grade & is compiled of homeschool, private, and public school youth.
Our choir season runs from January – May & includes weekly rehearsals from 5:15-8PM. The spring concert is held the first weekend in May. I

f you are interested in visiting one of our weekly rehearsals just contact us to arrange a time.

During the off-season, the choir meets once a month to begin working on music selections for the upcoming choir season & to spend a fun evening together. These monthly meetings are a great time to come see what the choir is about! Our contact information is listed on the contact page of this website or you can check us out on Facebook. We are looking forward to seeing you soon!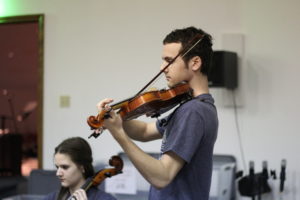 We are pleased to announce and invite you to attend the
Proclamation Choir Conference!
This is a conference for youth and young adults, ages 12-25 years old, filled with solid teaching and robust singing. Join us for evening conference sessions Monday, August 5th – Friday, August 9th from 6:00-8:00 pm. The conference attendees will then become the choir for a night of worship on Saturday, August 10th, which will be free to the public.
Cost for the conference is $25 per person. Each conference attendee will receive a t-shirt and enjoy a rich time of fellowship as we study God's Word and sing together. We'll be learning old and new hymns alike, which we hope will be a great encouragement to all.
Registration officially ends Friday, July 26th, but to ensure you get a proper t-shirt size and other benefits, we suggest you register before Wednesday, July 10th. If you're interested in registering a group of 5 or more people, please contact us and we can offer special group pricing. You can PM us through Facebook or you can contact Hannah Snow at 417-389-7426.
Sign up today!
[For your convenience, you may make your online payment below.]